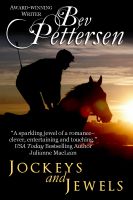 I received this e-book in the Library Thing member giveaway in exchange for review.
From the back of the book: Racehorse trainer, Kurt MacKinnon, resents being yanked into undercover police work. But when his ex-partner is murdered, Kurt is determined to find the killer and moves his third-string Thoroughbreds to the backwater track where his partner was last seen alive.
Julie West, struggling apprentice jockey, pins her dreams of an elusive win on the new trainer in town, never suspecting she's a person of interest—and not because of her riding ability.
Kurt didn't expect his contrary colt to flourish under Julie's feminine touch nor for his own rusty heart to soften. However, his deceit sucks them both into the cross-hairs of a killer, and suddenly much more than their love is in danger.
Loved this book, I am a horse nut so this was a great read for me. Kept me entertained all the way thru! I laughed thru parts of it and cried some too. Kurt was very real and made me really think about what it meant to work undercover and have to maintain a certain personality. Only thing is the title gives away the mystery, which was quite a spoiler.