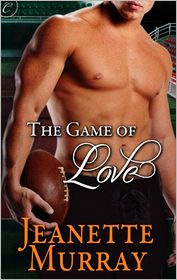 "Love is nothing in tennis. But in life, it's everything."
my favorite quote from the book!
From the back of the book...
Chris St. James is ready for normal. After walking away from her pro tennis career and a toxic relationship with a star hockey player, she's starting a new life as a teacher and tennis coach in a small town. Now all she needs is an average guy to share it with.
Brett Wallace is no average guy. Forced to retire from the NFL after an injury—and suddenly single after being dumped by his status-conscious wife—he's returned to his hometown to coach the varsity football team. Wary of women interested only in his celebrity, Brett finds Chris's indifference to his former career refreshing.
The last thing Chris needs is to get involved with another pro athlete, but she can't deny the sparks that fly between them. So she agrees to a purely physical, no-strings-attached affair. But the rules of the game change when she falls for him…
This was a great fall afternoon escape! I really felt sorry for Chris and her family situation but thought she handled it rather well. As for Brett and his family some of their stunts had me laughing out loud, they were great. I adored Brett from the very beginning he was so typical of his character, wasn't really sure about Chris, she seemed a little over the top in her "fear" of getting involved with a pro athlete. But then I was surprised at how awful her previous relationship was, he was an ass and only got more professional at that thru the story. Sure was glad Chris got over her fears! Has a great HEA ending!
I would def recommend this one if you like contemporary romance with a sports theme.