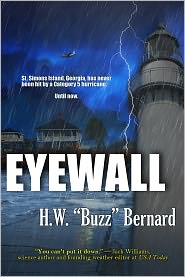 This book was courtesy of Bell Bridge Books and NetGalley.
St. Simons Island, Georgia, has never been hit by a Category 5 hurricane. Until now. No one predicted the storm's sudden force. A crippled Air Force recon plane, trapped in the eye of a violent hurricane. An outspoken tropical weather forecaster, fired from his network TV job before he can issue a warning: the storm is changing course and intensifying. A desperate family searching for a runaway daughter on Georgia's posh St. Simons Island, cut off from escape as the hurricane roars toward them. A marriage on the rocks; an unrequited sexual attraction; a May-December romance. All will be swept up by the monster storm. Get ready for a white-knuckle adventure.
This is a must read book! I got started and could not put it down until I was done! Having lived in the south all my life and having been thru several hurricanes and losing two homes to hurricanes in my life this book was a very interesting and emotional read for me.
The book is very well written with very good character development. I was especially intrigued by how the author brought all of the characters together who otherwise would have never known each other. By the time I finished reading the book I kept having to remind myself that it really was fiction, the author did such a wonderful job of making the story believable and realistic. As a side note the authors bio is a very interesting read too!!