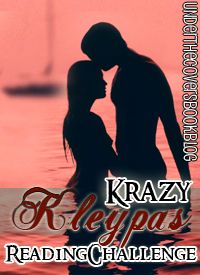 I love Lisa Kleypas' books, both contemporary and historical. I will be re-reading a lot of them in 2012~
Visit Lisa's Divas
I am one of Lisa's Divas, helping to promote her upcoming releases...
I am so excited for Lisa Kleypas's new book, coming in February 2012. Read an excerpt here:
http://bit.ly/j5qdP8
.
Rainshadow Road, the second in the Friday Harbor series.
Lucy Marinn, a glass artist who lives on San Juan Island, has just been dumped by her boyfriend Kevin. Needing some privacy and time to think, she goes to a nearby beach and meets a dark-haired stranger . .
Under the Covers
is hosting a reading challenge for 2012.
If you become as addicted to Lisa Kleypas' books that I think you will, that would be a great time to join a reading challenge offered by
Under the Covers
. Lots of fun there. I've jumped on board too. I'm going to shoot to become "Kleypas Krazy" Just click on the button at the top of this post!