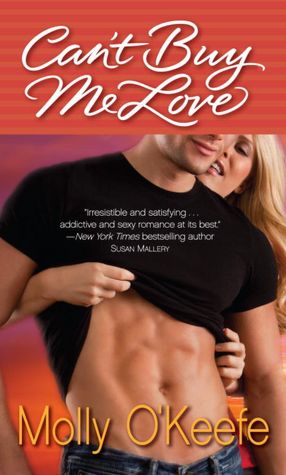 A girl from the wrong side of the tracks, Tara Jean Sweet knows that opportunity will never knock; she'll have to seize it. Elderly Texas rancher Lyle Baker has a dying request: He will give Tara Jean a stake in his leather business in exchange for a little family subterfuge. All Tara Jean has to do is play the part of a gold-digging fiancée to lure Lyle's estranged children home. The mission is soon accomplished.

Now Lyle's gone—and his ridiculously handsome son, Luc, an ice hockey superstar sidelined by injuries, is the new owner of Crooked Creek ranch. He's also Tara Jean's boss. But being so close to sinfully sweet Tara Jean does crazy things to Luc's priorities, like make him want to pry her deepest secrets from those irresistible lips. But when Tara Jean's past demands a dirty showdown, will Luc stay and fight?
Looking at the cover I was expecting a fluffy romantic comedy type of story…but I got a whole lot more, I was really surprised by the depth of the storyline. The characters have some heavy baggage from the past and some real issues from the present. It was a much more emotional read than I expected.
Having said all that I really liked the book. Ms. O'Keefe did a great job with the characters and made the way they handled their situations very realistic. Tara and Luc make a great pair, lots of heat there! Tara is so sassy you can't wait to see what she will say next! At first I did not like Victoria (Luc's sister) she seemed so shallow and insecure but she eventually comes into her own and I'm looking forward to her story in the next book.
Book provided by the publisher for review.
AMAZON Can't Buy Me Love

BARNES & NOBLE Can't Buy Me Love
Molly O'Keefe is a RITA-Award winning author with 20 Harlequin novels in publication. She's won the Romantic Times Reviewers Choice award for Best Flipside in 2005 and Best Superromance in 2008. Her first Bantam Contemporary Romances, Can't Buy Me Love will be released in June 2012 and it's follow up Can't Hurry Love in July 2012. She lives in Toronto, Canada with her family and the largest heap of dirty laundry in North America.