THE BOSS AND HER BILLIONAIRE
He threw her inhibitions overboard.
Cruise director Michaela Western has everything she wants—everything except a sex life. But there are no secrets on cruise ships. She risked her job once for a dalliance with the Captain, and won't do it again for a few minutes of toe-curling pleasure. Until a devilishly handsome new staffer with a body made for sin tempts her to walk on the wild side...
Investment billionaire Dylan Johns always gets what he wants. He is used to giving orders—not taking them—until he's forced to go on hiatus from his investment company. To bide his time and carry out an old dream, he takes a job on a cruise ship—and ends up taking orders from his gorgeous, but uptight, new boss. He is determined to loosen her up with a fun onboard romance, but their no-strings fling turns serious and Dylan is forced to confess his lies.
When the affair threatens to shatter Michaela's own career dreams, she finds herself caught between the devil and the deep blue sea.
"Like I said, I don't do holidays. If I'd had to sit around and read a book for this long, I already would have gone crazy."
Dylan smiled at her, a coronary-inducing, thigh-quivering smile. She wanted to throw herself at him, but he stood up. "So, ready for some fun?"
He'd said it again. Fun. Of course. For a moment, she thought he was going to say something different. That there might be something more between them than a bit of fun. But no, fun was just what she needed. At least for now.
"Can we start again?" she asked.
Dylan's smile was delicious—the green of both ocean and forest in his eyes, and the heat in their depths sparkled. "To fun?" he asked and held out his hand.
"Fun," she said, taking it, her heart racing.
"Now, about that snorkeling," he said. "Race you to change?"
Michaela wondered at what his definition of fun might be. As she changed into her pale blue bikini in the luxurious bathroom, her skin tingled, and when she emerged she felt Dylan's gaze as if his eyes had physically stroked her.
BARNES AND NOBLE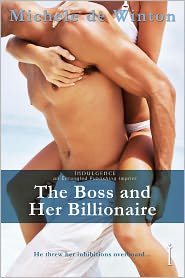 Michele was born in the mid 1970's amid a burgeoning sprawl of vineyards and new retirement homes. Despite training in law (or perhaps because of it) she has been a dancer, producer, writer, and all round arty type in various countries for most of her life. Now back home in New Zealand after travelling a plenty, she is a mom to one and writes full time in an office surrounded by whispering trees.